A recent article published in THINGS magazine - pimping out my friends (band Mirror!Mirror! and Stop Scratching cassette label) to the nation! I'm a verbal 'madam'.

MIRROR!MIRROR!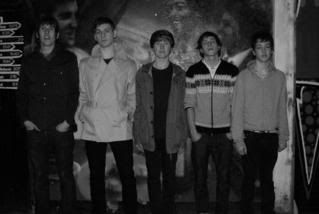 When a band like Mirror!Mirror! take to the stage, any self respecting live music fan has a hard job of keeping their excitement in their respective knickers. Having had the pleasure of witnessing the frenzied (not to mention flesh-filled) explosion of pure energy that the Mirror! Mirror! boys dedicate to their live shows, it is no surprise to us at Things that they have been causing such a stir on the local scene and beyond. Undefinable in genre, we caught up with the local boys to see how they have been coping with the new-found national love they've been receiving and to try and figure out how we ought to define their unique brand of spazz-rock:
Things:
When you were just getting into playing music, who/ what was your inspiration?
Broadze:
In terms of our roots as people and learning about music, Mike and myself would insist Van Halen be mentioned, as well as Iron Maiden, Bon Jovi and Extreme. When we first started as another band we were completely different musically to what we are now, but some of those influences included Botch, Swing Kids, Refused, Every Time I Die, The Bled, Gravity, Level-plane & Equal Vision records' (see: Converge) bands among others.

Things:
What inspired you/ has inspired you recently?
Broadze:
We have such a massive range of influences, but recently old post punk bands like Gang of Four, Pigbag & Devo have been major sources of inspiration, as well as newer bands such as Liars, Moving Units, Blood Brothers, The Rapture & various "three one G" bands. Electronica and pop music are also big influences for their beats and song structure. Lyrically I obtain ideas and inspiration from books and life in general.
Things:
In this genre-obsessed industry, how would you describe your sound, if you had to pigeon-hole yourselves?
Broadze:
Something like post punk/ indie rock I guess, when people ask me what sort of music we play I usually say 'dancy indie', they usually just raise their eyebrows, smirk and walk away.
Things:
You hail from Nuneaton - what's the local reaction to your unique sound?
Broadze:
Luckily and thankfully it is usually very positive. It's undoubtedly a strange town for a band like us to come out of but I think it makes it all the more exciting for people from Nuneaton who haven't been 'exposed' to our particular brand of music. We've had some really good shows in Nuneaton and some not so good; but that's the same across the country I suppose. On the whole people enjoy us when we perform at home and I hope we open doors for people to access more new music.
Things:
Mirror Mirror is an episode of Star Trek - is that pure coincidence or are you all closet Trekkies...?
Broadze:
We're big fans. That is of course where we got our . Look out for a collaboration with Data and the Klingons on the EP.
Things:
How long have you been playing music? Together/ individually?
Broadze:
We have been playing together with various line-ups for about two and a half years so it's amazing that we are finally getting somewhere with our music. Individually Mike and Alex have both been playing guitar for 6 or 7 years, Paul has been on drums for 5 years and Luke on bass about 3 years.
Things:
Where is your favourite venue / town to play?
Broadze:
We love the Rainbow & Sunflower Lounge in Birmingham as venues. We love playing London too - it's a toss up between the two when it comes to choosing an ultimate favourite.
Things:
Have you had much industry interest?
Broadze:
There's been some interest from some labels & PR companies and we are working on that, but before we had Maryam as our manager we seemed to have unbelievable bad luck at times and that made us a little lazy. Now we're working twice as hard to get to where we want to be, which is touring and releasing records with the right people around us to support us.
Things:
How did you all meet? Do you have contrasting/ clashing musical tastes?
Broadze:
Mike and myself met at a football course when we were around 9 and ended up going to secondary school together. We met Alex and Luke through local gigs and asked Alex to play guitar with us. At the time we had no bassist (so 'punk') and we later asked Luke to join our ranks on bass. He had never played bass in his life. After various drummer changes, Mike suggested we try a young man called Paul Wechter that he knew from college… After one practice he had learnt all the songs and we had found our man. The best part is all of M!M! besides Mike are from Stockingford in Nuneaton which is so convenient. And we are all close mates.
We all have fairly similar tastes although we're divided over dub step, some hip hop/grime, indie and lots of metal. Naturally this regularly sparks argument in terms of taste. But that just keeps the fire burning'!
Things:
You chose to release a tape through Stop Scratching - how did that go down?
Broadze:
Some people just don't get it but we loved the idea when 'Stop Scratching' (www.myspace.com/stopscratching) put it forward to us. Tapes are a lost medium now and physical releases that you can hold in your hand and add to your collection will always be superior to purchasing MP3s, however convenient that can be. On the other hand a lot of people jump up and down with excitement upon seeing our tape; particularly when they see the amount of effort Stop Scratching put into it. We are very proud of it and we can't ask for much more than that. People who speak to us about it generally love it and we have sold nearly all of the copies as it was limited to 100.
Things:
What is the situation with the Holy Roar/ 'on dry land' single release? Dates? Songs?
Broadze:
Well, this is where our bad luck re-rears its ugly head… The pressing plant which 'On dry land' sent the record to be pressed has gone into liquidation. At the moment we don't know if or when we will get the EP back or the money invested. We appreciate that we are not the only band affected by this situation but there's not a lot of comfort in the knowledge that other EPs are on hold too… We are travelling to shows without brand new music to sell which is frustrating. The release date was supposed to be March 28 to coincide with our tour (myspace.com/mirror to see the dates) but complications beyond our control changed that. Holy Roar will be releasing the songs which are 'Wolfgang Bang' and 'Silicon Eyes' as well as a remix on itunes (after me talking about physical release being superior to mp3…. HA!) This is happening in April/ May time so we will keep you updated with everything when it's ready to purchase. Keep your eyes peeled on our Myspace!
Things:
DOT TO DOT - exciting! How did that come about? Broadze: Our fantastic manager
Broadze:
Maz (Chicks Dig Jerks) took care of our slot. We are so excited there's some great acts already confirmed and we're dying to make a big impression on everyone there. We were asked to play 2 years back by Simon from The Klaxons but due to other commitments it wasn't possible. We are very grateful that we are getting a second chance.

Things:
What would be your dream gig?
Broadze:
God… Headlining Wembley stadium with support from Iron Maiden, MC Hammer, Will Smith, Extreme, then an interval with a Bruce Lee martial arts show. Then we would all head back stage and have luxury suites with Belvedere vodka, Monica Bellucci, Helena Christensen, Gisele Bundchen, Cameron Diaz and Keeley Hazell waiting for anyone of us to choose the company of for the evening. Something like that.
Catch the Mirror! Mirror! boys on tour in April and May. If you enjoy good music mixed with a high energy performances, bound together with a splash undeniable talent and a generous sprinkling of pure stage presence, this band is for you. And lets face it; who doesn't like that? It's the perfect rock and roll recipe.
Wolfgang Bang/Silicon Eyes (Double A Side Single) - AVAILABLE ON ITUNES